Please follow and like us:
Are you indecisive of what could be the best home school curriculum for your child? It might be a daunting task for a parent to find from a variety of curriculum options. Our team has made this easy by featuring the top-notch homeschool curriculums that would help you narrow out your choices with such complications in the market. To pick the best homeschool curriculum for ADHD, dyslexia, and other learning disability, please read through till the end.
Why do we prefer the Homeschool Curriculum for ADHD Students?
Some parents are worried about their child's high-level education, and because of the stigma and teasing, they often decide to homeschool their child. There are also many reasons why parents prefer the homeschooling of their children.
The ADHD child is a unique child that needs to be taught in various ways without realizing that something is unusual with him/her.
The second factor talks about An ADHD child at home who needs one-on-one intervention, a perfect starter for their homeschooling.
ADHD children studying in a home environment would attain a comfort zone and be free from distractions. Also, the academic progress of the visual learner can be reviewed twice or thrice a week.
Furthermore, a parent can quickly look after the child and teach him to learn different techniques to get an idea about this particular learning style.
Few skills that a homeschooling parent must have to teach their visual learner:
These several important pointers need to be considered when you homeschool a child with learning or attention disorders:
Firstly, to teach a child, you need to be eligible academically to match her educational demands.
How well can you maintain self-discipline and structure to the child's routine?

Tools that can help ADHD child
Tools can be a massive helping hand when trying to understand any situation or anything you want. Below is the list of some tool used for homeschooling an ADHD child:
Fidgeting tools and Legos are one of the examples for the kinesthetic learner. The fidgets are of small size, non-disruptive toys that are appealing to them, keeping their hands busy for a while.
When it comes to keeping the child occupied for a few minutes, Velcro is another useful fidget tool. Taping a strip underneath or above the table would give them something to touch.
Gums or Chewable necklaces are other options that you can try to keep a student-focused on learning. Other than that, you can also place rubber bands or gum tubes at the end of the pencil to let them chew.
Choosing the Homeschool curriculum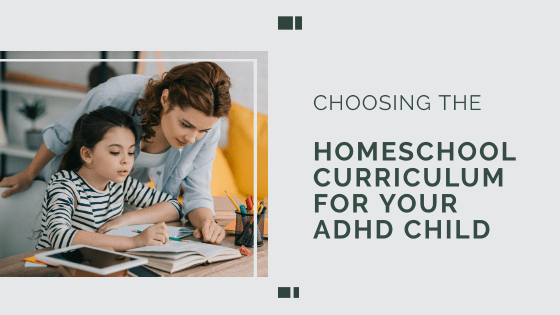 Now we're sure that you have moved forward with homeschooling for your special child. There comes a challenging task for you to pick the right curriculum that meets the child's special needs. You need to be flexible when deciding the school setting so you can try multiple options on your child.
If you're naïve to the homeschooling system, it is advised for you to navigate the various packages to find the one that comes within your budget and proffers numerous benefits.
Concerned about teen's education and the parent-friendly environment? Time4Learning is a fully digital and online-based learning program, so homeschooling parents must have access to a good internet connection to get complete access to a student's profile by just signing up.
Time4Learning Program features
You can start the curriculum anytime and end the registration once courses are finished, so it's all up to you.
For Preschool House
Students on the preschool level study with interactive fun. They are taken to open ground to enjoy or play whatever they want to. Children learn pre-math and pre-reading skills.
For Kindergarten
Time4Learning proffers basic concepts in subjects like Math, Science, Language, and Arts. Students learn from the letters, sighting words, and sounds. Students began to learn and construct short and straightforward sentences through Language Arts programs. For Math, students focus on counting, basic calculation like addition, and subtraction. Science4U's students are given free access to the courses.
1st-8th Standard
The curriculum for these standards includes primary subjects like Math, Science, Social Studies, and language arts.
KG students would study the 2ndgrade level Social studies, whereas 8th graders would have to study 7th grade-level social studies.
Time4Learning is also available to abroad countries with an additional fee.
For Highschool
The package includes the four major subjects: Math, social studies, science, and language arts.
Options and Electives available.
Time4languages.
Health & Economics
Finance related.
For adding a course/month, you'll get charged an extra $5
Middle school package includes:
Lesson objectives, materials, and teaching tools.
Tests, quizzes, worksheets, and assignments.
An active planner that is carried out multiple times a year.
Tracking a child's progress with seasonal grading and reports.
Time4Learning Pros and Cons:
Pros
Recordkeeping.
24/7 availability.
Electives.
Completely online education.
Steady pace.
Cons
Increased screen interaction.
Automatic grading may be inaccurate sometimes.
Limited subjects and electives were offered.
Limited support through emails only.
Beestar is another innovative online platform that deals with students with learning disability and helps them thrive academically. The Beestar enrolled students are quite active, and some positive changes in their attitude are visible, which makes this product stand out amongst others.
The Beestar teaches grade level from 1st to 8th standard, and there has been a separate division for 9-12th grades. The primary subjects for these standards are Math, LA, Science, Social studies, and Vocabulary. The category would be non-religious, and the price is 20$-30$ per week, which may vary depending on the number of subjects.
Let's roll over to the fascinating features of this product:
Beestar Program Features
With the Beestar course, students can excel in their core subjects by giving their best for only 20 minutes per week, which is exceptional. The advantage they get is motivational recognition, which is as much important as studies. You get free printable worksheets for math homework, involving decent calculations that aid the child to grasp concepts in a better way.
Beestar Pros and Cons
Pros
Reasonable pricing.
Learning gaps are finished.
Avail a group discount.
Proffers national completion.
Cons
Fees structure is challenging to understand.
Homeschool parents aren't eligible for group discounts.
May not be entirely upgradable.
It could feel challenging or tricky.

Math Mammoth is an online homeschool curriculum that emphasizes math skills and conceptual understanding, enabling them to grip the ideas and basics through various steps of concepts.
if you want to buy individual text books to try it out first. You can buy it from here.
Math Mammoth Program features
The curriculum is well-organized and sequentially ordered chapters by topics, making it easier for the disabled child's teachers. It consists of 8-10 chapters for each grade level. The curriculum's main motive is to focus solely on conceptual ideas and thinking of a student. To make it easy for both sides, visual models and exercises are made necessary, enabling them to understand things properly. Free videos are also available on the site, and you can watch them get a better comprehension of the topics.
The mere focus is on the mental health and number sense with different teaching methods. Math Mammoth emphasizes self-teaching by elaborating everything so clearly and full of concepts that a student can understand without having to learn everything, making it easier for the parents to put minimal effort into the studies.
Math Mammoth Pros and Cons
Pros
Excellent customer service.
Well-organized textbooks and programs.
The use of color text helps engage a highly visual child.
Affordable for many parents.
Easy to follow explanations.
No learning gaps were offered.
Math games and resources.
Cons
This program doesn't supply manipulative.
A limited printed version is available.
The area of writing wouldn't suffice to some students.
A lot of text and information is on one single page.
If you are looking specifically for a math curriculum providers. We would recommend checking out our Beast Academy vs Singapore Math Review
ACE is a traditional style textbook that divided it into bite-sized worksheets and assignments, which we refer to as a PACE. Each PACE is like a unit in work that can be done in 2 to 3 weeks, depending upon the candidate's ability. Each level comprises of 12 PACEs in each subject. PACEs incorporate Godly character-incorporating exercises with the academic content, and self-teaching exercises are deliberately intended to revamp thinking and make impactful learning.
ACE Program Features
In this program, a student is expected to cover at least six core subjects, including Math, English, Wordbuilding, Literature, and Creative Writing, Science and Social Studies at the primary level, plus Bible and over 20 elective courses at the secondary level.
Students begin their PACE journeys by setting certain goals, which genuinely help them to Ace and enhance in the academic field. Quizzes Self-Test, workshops, and several checkups are performed for each candidate to assess the weak area. The student's weakness is then taken into consideration, and teachers work on them until they become fully capable for the next stages.
ACE Pros and Cons
Pros
Steady pace without any pressure.
Easy to follow structure for parents.
Child progress tracking is a useful feature.
Affordable option.
Encourage independent and solo learning.
Multiple electives were offered.
Well-oriented and organized
Cons
Math is a bit vague and dull, as well.
Rote learning is followed.
Some resources are outdated.
Characters have absurd names.
Discourages freedom.
You might be interested in: Best Secular Homeschool Curriculum Review

Tired of searching for the best homeschool curriculum for ADHD? Worry no more, The Calvert School system has got your back so what are you waiting for? Get ready for the proven and tested curriculum to help children educate and flourish academically. Our professional staff is working continuously to better the students and enable them for a better tomorrow. Calvert school mainly focuses on the self-paced learning, and with the addition of the step-by-step lesson plans, it has been more comfortable for the parents and teachers of the disabled child to get on the learning track and assign the daily tasks.
Calvert Homeschool Program Features
The program proffers the best tools and support group to become the child's best teacher to continue to achieve desired and set goals. Teachers strive hard to offers students with foundational knowledge. We motivate and inspire students to overcome challenging situations and enable them to understand projects better. At Calvert, skill, quizzes, virtual labs, mind games play a vital role in strengthening and polishing child skills.
The primary subjects for K-2 learning would be history and geography, math, LA, and science. The colorful printed curriculum would be an exciting way to learn and understand new concepts.
Calvert Homeschool Pros and Cons
Pros
Well-integrated workbooks.
Impactful self-teaching.
One-on-one intervention.
Live support and latest reports.
Great service.
Cons
A bit-pricey option.
Lengthy lessons.
Difficult to operate.
Customer support group is not helpful at times.
Bottom-Line
So we believe that you've read till the end and must know the dos and donts of every product we have reviewed. Choosing the best home school curriculum might be a complicated task for you due to various options in the market. Our team has undoubtedly helped you side-by-side in picking up the right tool for students suffering from Dyslexia, ADHD, and Dysgraphia.
We hope you've found the right one, but if you're still in a chaotic state, we can help you choose the right one of your choice.
We're done with the reviews here, and in our opinion, the best homeschool curriculum for ADHD is the Time4Learning curriculum without any single doubt. We chose Time4Learning due to its plenty of features, which are incredibly convenient for parents and students.

FAQ's
Can ADHD affect the active learning of your student?
It may affect the active learning of children. Whether it is Dyslexia, ADHD, or lack of attention disorders, these disorders' symptoms might affect the children's classroom activities. Following are some of the symptoms or behaviors that would confirm one if a child goes through with conditions or not.
Not following the teacher's instructions.
Irritation and disturbance with a noisy classroom environment.
Misplacing things after class activities.
Can you even Home school a child?
Yes. Homeschooling child is your constitutional right if you think your child is not performing well in academics. You can take this decision for homeschooling your child who might be suffering from learning disability, as also stated by prominent organizations such as MSLDA. Your rights are secured by The First and Fourteen Amendments to the constitution.